6 Self-Care Products For The Ultimate At Home Spa Day
DISCLAIMER
This blog has not been approved by your local health department and is not intended to provide diagnosis, treatment, or medical advice. Read More

This blog has not been approved by your local health department and is not intended to provide diagnosis, treatment, or medical advice. The content provided on this blog is for informational purposes only. Please consult with a physician or other healthcare professional regarding any medical or health-related diagnosis or treatment options. Information on this blog should not be considered as a substitute for advice from a healthcare professional. The claims made about specific products throughout this blog are not approved to diagnose, treat, cure, or prevent disease.
In this article: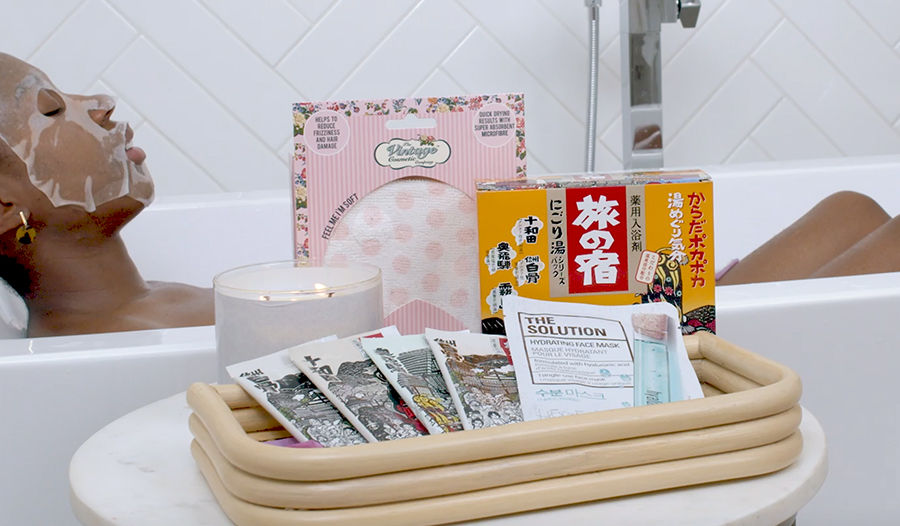 Amidst the stressful news broadcasts and overall heightened anxiety we are facing as a society today, it's important to take care of your body and mind more than ever. One way you can focus on your self-care is by recreating a relaxing spa day at home. Unwind, play some relaxing music and spend an evening pampering yourself in the comfort of your own home.
Here are 6 products to help you treat yourself to the ultimate spa day.
Put Your Hair Up in A Cute Vintage Hair Turban
Whether you're just keeping your dry hair up and away from your neck, or you're giving yourself a hair treatment while you soak in the bath, the Vintage Cosmetic Co Hair Turban in Pink Polka Dot is fun, feminine and effective at protecting your hair.
While you could use an ordinary towel for this purpose, a hair turban that is made out of soft and absorbent microfiber will cause less stress on your hair and scalp because it is lightweight and will help to reduce frizz and hair damage. Too much stress on the hair or scalp can cause long-term damage such as breakage. Breakage can then cause unwanted hair texture and flyaways so prevention is the key.
We recommend maximizing your time in the bath by massaging a hair mask or treatment into your hair and securing it with the turban. The extra time to soak into your hair plus the heat from the bath can maximize the benefits of the mask and leave your hair looking healthy once you've rinsed it out.
Of course, you can use the hair turban after regular showers to plop your wet hair and twist it up to dry. The microfiber will soak up moisture in no time, making drying and styling your hair much easier.
Make Your Bath Spa Worthy With Milky Bath Salts
While you could pour in some bubble bath and call it a day, bath product technology has improved greatly so you can create a spa-worthy bath at home. The Kracie Tabino Yado Bath Salts in Milky Assorted (also available in Clear Assorted) are a luxurious substitute to mimic what you'd find at a Japanese spa (known as "Onsen").
The assorted pack has 4 different varieties with citrus, herbal and/or floral scents: Towada (milky gray), Okuhida (milky green), Kirishima (milky light blue) and Shinshu Shiahone (milky white).
While it won't make lots of bubbles, the natural minerals, moisturizing ingredients and medicinal herbs such as dried citrus peel and Angelica Acutiloba, along with a calming fragrance create a relaxing and pleasant milky bath. Soaking in a bath can soothe achy joints and sore muscles, while forcing you to disconnect from your devices and enjoy the moment. You'll have that hot springs experience without having to leave your home.
Add Hydration To Your Skin With A Face Mask
You can't have a proper self-care day without a face mask, right? These are the ultimate luxury when it comes to taking care of your skin.
Hydrating face masks with hyaluronic acid are always a good choice. They can replenish moisture loss while you soak in the tub. The Face Shop's Solution Hydrating Face Mask works wonderfully on most skin types whether you have dry, aging or sensitive skin.
Place this mask onto your face before hopping into your warm bath. Leave it on for 20 minutes. Once your time is up, gently remove it and massage the excess serum into your skin. You may follow up with an eye cream or your favorite moisturizer.
Show Your Body Some Love With a Rich Body Lotion
After your bath, lock in moisture by applying a body lotion. Pump a generous amount of the Olay Quench Soothing Body Lotion With Orchid and Black Currant onto the palms of your hands and gently massage your arms and legs. Taking the time to massage the product in properly will help relax your muscles and promote better circulation throughout the body.
Keeping your skin moisturized may also help when trying to reduce the appearance of dry, scaly or ashy skin on the body. This luxurious lotion by Olay contains jojoba butter and orchard extract to provide 24-hour hydration.
Grab a Lip Scrub for Smoother and Plumper Lips
Lip exfoliation is just as important as body exfoliation if you want to get rid of dead skin and build up. It allows new skin cells to come to the surface, keeping your lips looking bright, healthy and plump.
After you're finished massaging your creamy lotion into your skin, apply a layer of the Fizz & Bubble Lip Scrub in Rainbow Sherbet to your lips. Available in other fun and yummy flavors like Watermelon, Pineapple Coconut, and Mint Mojito, these scrubs will help you achieve silky and smooth lips in a matter of minutes.
Leave the scrub on for a few minutes and, using clean hands, gently scrub your lips, allowing the beads to remove all the excess skin. Vitamin E brightens while avocado oil provides additional hydration. Don't forget to follow up with a nourishing lip balm for even better results.
Encourage Circulation With a Gua Sha Facial Massage
Before wrapping up your spa day, do not forget to spend some time massaging your face as well. Massaging your face may improve circulation, stimulate collagen production and help lymphatic drainage.
One of our favorite facial massage tools is the Honey Belle Jade Gua Sha. Made out of flat polished stone, most commonly jade or rose quartz, the Gua Sha is a traditional Chinese beauty tool that is used to scrape along the face and jawline in an upward and outward fashion to increase blood flow and slim the face.
You can store it in your fridge for optimal results. The cold stone can help reduce puffiness, and it also just feels relaxing when you glide it along the face for 10 to 15 minutes.
Rinse and Repeat: Spa Days For Self-Care
A spa day is a great way to relax, destress and give yourself some self-care, especially during quarantine. Treating yourself to a spa day is the perfect way to reset and get away for a bit. While not everyone can book an appointment at their local spa right now, we hope these tips and products help you recreate the experience in the comfort of your own home.