Ingredients to Look Out for in Your Sunscreen
DISCLAIMER
This blog does not intend to provide diagnosis... Read More

This blog does not intend to provide diagnosis, treatment, or medical advice. Read more. The content provided on this blog is for informational purposes only. Please consult with a physician or other healthcare professional regarding any medical or health-related diagnosis or treatment options. Information on this blog should not be considered as a substitute for advice from a healthcare professional. The claims made about specific products throughout this blog are not approved to diagnose, treat, cure, or prevent disease.
In this article: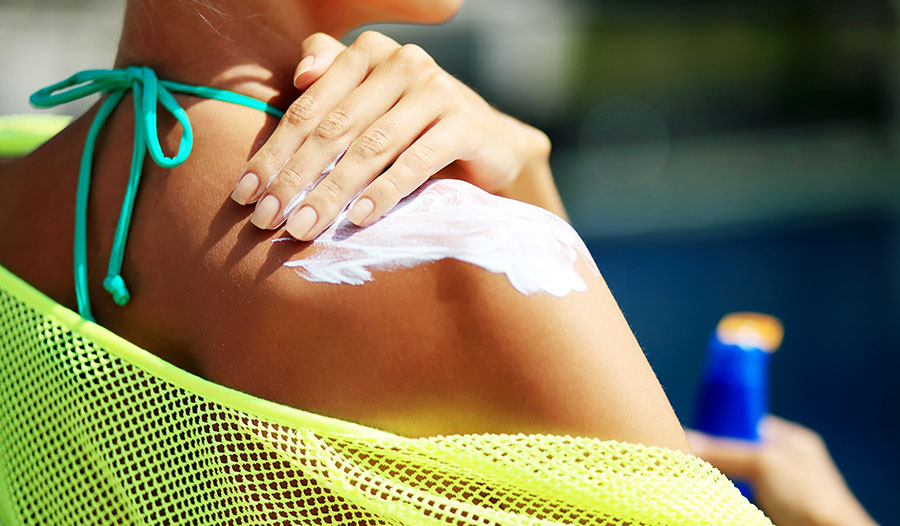 You care about your skin—that's why you're wearing sunscreen! But certain ingredients in sunscreen lotions can be harmful to your skin, your health, and the planet. Here's a quick rundown of the top ingredients to watch out for in sunscreens and what to choose instead.
‌‌‌‌Choose Ocean-Safe Sunscreens
When you wear sunscreen lotions in the ocean, some of it washes off of your skin and floats through the water, where it can be absorbed by ocean animals and plants including coral, algae, mussels, sea urchins, fish, dolphins, and more. Research has established that 10 of the chemicals commonly included in sunscreens may harm ocean animals by impairing their growth, impacting their babies in-utero, or damaging their immune systems. The National Oceanic and Atmospheric Administration lists these ingredients as oxybenzone, benzophenone-1, benzophenone-8, OD-PABA, 4-methylbenzylidene camphor, 3-benzylidene camphor, nano-titanium dioxide, nano-zinc oxide, octinoxate, octocrylene.
While more research needs to be done on the chemicals in this list, the general consensus is that two of these ingredients are definitely unsafe for ocean life—oxybenzone and octinoxate. These chemicals are sometimes hard to spot because they can be listed under other names. Oxybenzone, for example, can be listed as BP-3 or benzophenone-3. Octinoxate can be listed as OMC or octyl-methoxycinnamate. These names are a lot to commit to memory! Luckily, most sunscreens marked "Reef-Safe" or "Ocean-Safe" are free of these two ingredients. You should always double-check the label to be sure, since there are no firm regulations around the use of the terms and some companies may use them falsely.
My advice for my clients who want to skip label reading or who want to memorize only one ingredient is to choose reef/ocean safe sunscreens with the main ingredient of zinc oxide. This is because mineral-based sunscreens tend to be free of the chemical additives mentioned above, and are safe for human health. Many environmental experts recommend avoiding nanoparticles if possible because it's still unclear if these smaller versions of minerals can impact ocean animals, and I agree with them. Choosing the regular, non-nano forms of zinc if you can is a wise decision.
‌‌‌‌Human-Safe Sunscreen Ingredients
Most of my clients are surprised to learn that the Food and Drug Administration has only approved two sunscreen ingredients as safe: zinc oxide and titanium dioxide.
If you recognize these two mineral ingredients from the ocean-safe discussion above, you're not seeing double! Ingredients that are safe for ocean animals are generally safe for humans as well because our species share some of the same basic physiology and biochemistry. For example, endocrine-disrupting chemicals that impact mammals in the ocean can also impact human hormones and may lead to issues like cancers or altered estrogen signaling. I consider this to be a good thing because caring for yourself also means caring for other living beings on the planet.
The FDA has a long list of sunscreen ingredients that are still under investigation when it comes to human health. These include cinoxate, dioxybenzone, ensulizole, homosalate, meradimate, octinoxate, octisalate, octocrylene, padimate O, sulisobenzone, oxybenzone, and avobenzone. "Under investigation" means that the FDA is waiting for researchers across the globe to perform studies, draw conclusions, and report these conclusions publicly before deciding whether or not these ingredients are safe. This process takes decades, and my advice generally is to use products we know are safe now rather than using a product today that the FDA may determine has harmful effects in the future.
Additionally, the FDA has determined that two ingredients in sunscreen are not safe in any amount: aminobenzoic acid (PABA) and trolamine salicylate. Double-check your sunscreens for these ingredients and get rid of them if they're still in your cabinet.
The FDA-approved safe zinc and titanium-based sunscreens are known as mineral sunscreens. They both reflect the sun's UV rays away from the skin as a way of providing UV protection. Because zinc is a mineral that has multiple uses in the human body as a nutrient, I recommend choosing it over titanium-based sunscreens if you have a choice. Titanium has no known nutritional use in the human body.
You may want to consider using different sunscreens for your body and face. Face sunscreens are normally more gentle and lighter than body sunscreens, and generally don't contain ingredients that could create a tint on your skin and alter the color of makeup if you choose to wear it. If you're someone who is prone to acne, specialized face sunscreens also come with a lower risk of clogging pores. There are even liquid foundations, primers, and tinted moisturizers that contain SPF, so you can combine your skincare and beauty needs into one product.
If you're buying sunscreen for your children, baby sunscreen and kids sunscreen often contain gentler, safer ingredients than sports sunscreens or lotions meant for adults. You can even use these baby blends for big kids and adults who tend to react to products with fragrances, colors, or dyes. The bonus of buying baby sunscreen is that you can bring one sunscreen to the beach that works for the whole family.
‌‌‌‌Cruelty-Free Sunscreens
Ocean animals aren't the only beings that can be affected by human sunscreen use! Some companies test their products on animals before bringing them to market, while others use alternative research methods to ensure that their products are safe. When you have the choice, look for a product that contains a certification like Leaping Bunny or Cruelty-Free International.
The FDA does not regulate the use of the term "cruelty-free" or "not tested on animals," so any company can claim this on the label regardless of whether or not it's true. Leaping Bunny and Cruelty-Free International certifications, however, are voluntary and require companies to meet certain criteria to earn this certification, including excluding animal testing during all parts of the production process. Look for these certifications on the label if minimizing animal testing is important to you in your suntan lotion products.
‌‌‌‌A Note on Fragrance-Free Products
The term "fragrance" can be used to conceal irritating and even toxic chemicals that are used by cosmetic companies to give products a particular scent. I encourage my clients to buy products that don't contain the term fragrance and instead to choose products that contain the names of flowers or other smell-good substances they recognize. Some common names are lavender, lemongrass, peppermint, rosemary, chamomile, and more. If you're someone with sensitive skin, try to avoid added scents altogether and go with a sensitive skin sunscreen or scent-free sunscreen.
‌‌‌‌Important Points to Remember About Sunscreen
Any Sunscreen is Safer than a Severe Burn
Any conversation about sunscreen would be incomplete if we didn't touch on the dangers of sunburn. Sunburn is a major risk factor for the development of melanoma—a type of skin cancer that can be lethal. The more severe burns you experience over your lifetime, the more at risk you are of developing this type of cancer. If sunscreen can protect you from a severe burn, it's worth using, regardless of whether it contains the ideal ingredients.
Sunscreen Lotions Should Be Just One Part of Your Sun Protection Routine
Sun-protective clothing, UV awareness, and lifestyle changes are always more effective, safer, and better for the planet than suntan lotion alone.
It's my hope that you'll feel confident in the sunscreen aisle this summer as you pick out your favorite new lotion that's good for both you and the planet. By avoiding fragrances, chemicals, and processes that are known to be harmful, you can amplify your own health while enjoying the sun.
References:
Backes, Claudine, et al. "Facial Exposure to Ultraviolet Radiation: Predicted Sun Protection Effectiveness of Various Hat Styles." Photodermatology, Photoimmunology & Photomedicine, vol. 34, no. 5, 31 May 2018, pp. 330–337, pubmed.ncbi.nlm.nih.gov/29682802/, 10.1111/phpp.12388. Accessed 28 May 2021.

Center for Drug Evaluation and Research. "Shedding More Light on Sunscreen Absorption." U.S. Food and Drug Administration, 2020, www.fda.gov/news-events/fda-voices/shedding-more-light-sunscreen-absorption. Accessed 12 July 2021.

"Sunscreen: How to Help Protect Your Skin from the Sun." U.S. Food and Drug Administration, 2019, www.fda.gov/drugs/understanding-over-counter-medicines/sunscreen-how-help-protect-your-skin-sun. Accessed 12 July 2021.

Center for Food Safety and Applied Nutrition. "'Cruelty Free'/'Not Tested on Animals' Labeling on Cosmetics." U.S. Food and Drug Administration, 2020, www.fda.gov/cosmetics/cosmetics-labeling-claims/cruelty-freenot-tested-animals. Accessed 13 July 2021.

Corrêa, M. P., et al. "Changes in the Total Ozone Content over the Period 2006 to 2100 and the Effects on the Erythemal and Vitamin D Effective UV Doses for South America and Antarctica." Photochemical & Photobiological Sciences, vol. 18, no. 12, 2019, pp. 2931–2941, pubmed.ncbi.nlm.nih.gov/31696195/, 10.1039/c9pp00276f. Accessed 28 May 2021.

de Troya-Martín, Magdalena, et al. "Prevalence and Predictors of Sunburn among Beachgoers." Photodermatology, Photoimmunology & Photomedicine, vol. 34, no. 2, 17 Oct. 2017, pp. 122–129, pubmed.ncbi.nlm.nih.gov/28976044/, 10.1111/phpp.12354. Accessed 12 July 2021.

Driscoll MS;Wagner RF. "Clinical Management of the Acute Sunburn Reaction." Cutis, vol. 66, no. 1, 2021, pubmed.ncbi.nlm.nih.gov/10916693/, . Accessed 28 May 2021.

"EWG Skin Deep® | What Is OCTINOXATE." EWG, 2014, www.ewg.org/skindeep/ingredients/704203-octinoxate/. Accessed 13 July 2021.

"EWG Skin Deep® | What Is PABA." EWG, 2014, www.ewg.org/skindeep/ingredients/704390-PABA_(PARA-AMINOBENZOIC_ACID)-PABA-PABA-PABA/. Accessed 13 July 2021.

HOLICK, MICHAEL F. "Biological Effects of Sunlight, Ultraviolet Radiation, Visible Light, Infrared Radiation and Vitamin D for Health." Anticancer Research, vol. 36, no. 3, Mar. 2016, pp. 1345–1356, ar.iiarjournals.org/content/36/3/1345.long. Accessed 27 May 2021.

McCusker, Meagen M., and Jane M. Grant-Kels. "Healing Fats of the Skin: The Structural and Immunologic Roles of the ω-6 and ω-3 Fatty Acids." Clinics in Dermatology, vol. 28, no. 4, July 2010, pp. 440–451, pubmed.ncbi.nlm.nih.gov/20620762/, 10.1016/j.clindermatol.2010.03.020. Accessed 28 May 2021.

Puvabanditsin P;Vongtongsri R. "Efficacy of Aloe Vera Cream in Prevention and Treatment of Sunburn and Suntan." Journal of the Medical Association of Thailand = Chotmaihet Thangphaet, vol. 88 Suppl 4, 2015, pubmed.ncbi.nlm.nih.gov/16623024/, . Accessed 27 May 2021.

Rosner, William, et al. "Utility, Limitations, and Pitfalls in Measuring Testosterone: An Endocrine Society Position Statement." The Journal of Clinical Endocrinology & Metabolism, vol. 92, no. 2, 7 Nov. 2006, pp. 405–413, academic.oup.com/jcem/article/92/2/405/2566757, 10.1210/jc.2006-1864. Accessed 1 June 2021.

Saric, Suzana, and Raja Sivamani. "Polyphenols and Sunburn." International Journal of Molecular Sciences, vol. 17, no. 9, 9 Sept. 2016, p. 1521, pubmed.ncbi.nlm.nih.gov/27618035/, 10.3390/ijms17091521. Accessed 28 May 2021.

Saric-Bosanac SS;Clark AK;Nguyen V;Pan A;Chang FY;Li CS;Sivamani RK. "Quantification of Ultraviolet (UV) Radiation in the Shade and in Direct Sunlight." Dermatology Online Journal, vol. 25, no. 7, 2019, pubmed.ncbi.nlm.nih.gov/31450273/, . Accessed 28 May 2021.

Seidle, Troy. "Humane Society International's Global Campaign to End Animal Testing." Alternatives to Laboratory Animals, vol. 41, no. 6, Dec. 2013, pp. 453–459, pubmed.ncbi.nlm.nih.gov/24512229/, 10.1177/026119291304100608. Accessed 13 July 2021.

Silva, Mariane Arnoldi, et al. "Anti-Inflammatory and Antioxidant Effects of Aloe Saponaria Haw in a Model of UVB-Induced Paw Sunburn in Rats." Journal of Photochemistry and Photobiology B: Biology, vol. 133, Apr. 2014, pp. 47–54, pubmed.ncbi.nlm.nih.gov/24681774/, 10.1016/j.jphotobiol.2014.02.019. Accessed 27 May 2021.

US Department of Commerce, National Oceanic and Atmospheric Administration. "Sunscreen Chemicals and Coral Reefs." Noaa.gov, 2021, oceanservice.noaa.gov/news/sunscreen-corals.html. Accessed 12 July 2021.

Nationalacademies.org, 2021, www.nationalacademies.org/event/06-15-2021/sunscreen-study-potential-effects-of-uv-filters-in-aquatic-environments. Accessed 13 July 2021.