Easy Gluten-Free Thumbprint Cookies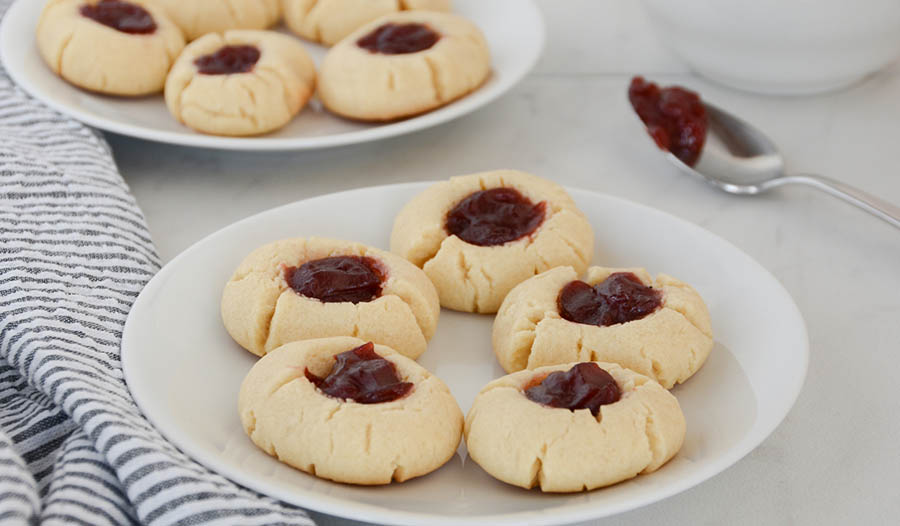 Following a gluten-free diet may offer benefits for anyone suffering from celiac disease, gluten-based intolerances or irritable bowel syndrome. This cookie recipe not only contains zero gluten, but it is also loaded with nutritious ingredients.
Ingredients:
Raspberry Chia Filling Ingredients:
2 2/3 cups fresh raspberries

1/2 cup white

sugar

1/8 cup

chia seeds

2/3 cup water

1 tsp. lime juice

1 Tbs. + 1 tsp.

cornstarch
Raspberry Chia Filling Instructions:
Take out a saucepan. Add the raspberries, lime juice, white sugar and 3/4 cup of water to a pan. Heat these ingredients over a high temperature while stirring frequently.

Once the ingredients begin to boil, reduce the heat to medium-low and then let the mixture simmer for 15-20 minutes or until it has reduced a bit.

Remove the pan from the stovetop and then strain the filling mixture through a fine-mesh strainer into a large bowl. Once the filling has been strained, pour it back into the pan.

Take out a mixing bowl. Add the remaining water, cornstarch and chia seeds to the bowl while stirring. Add the filling mixture into the bowl and stir the ingredients together until they are even and consistent.

Place the mixture back into the pan and bring it to a boil over high heat. Reduce the heat to medium-low and stir until the filling thickens.

Let the filling cool in the refrigerator for half an hour.
Cookie Instructions:
Preheat the oven to 350 degrees Fahrenheit or 175 degrees Celsius.

Add the coconut oil and honey to a pan. Mix the ingredients together over medium heat until they become a smooth liquid. Remove the pan from the heat and then rapidly stir in the egg and liquid vanilla extract. Set the pan aside.

Thoroughly mix the remaining ingredients together in a large mixing bowl.

Pour the mixture from the pan into the bowl from step 3. Thoroughly mix all of the ingredients together until a thick cookie dough forms.

Arrange 1 tablespoon of dough at a time onto a lined baking sheet. Place each cookie 2 inches apart.

Bake the cookies for six to eight minutes. Once the cookies have been pulled out of the oven, firmly create a thumbprint on each one.

Pour the raspberry and chia seed filling into each cookie thumbprint. Place the cookies back into the oven to cook for an additional five minutes or until they are done.

Let the cookies cool for 10 minutes. Enjoy them with a glass of milk or dairy-free milk.